Are you transitioning to a meatless diet and missing asian food that you love to eat? Then Amy's Chinese Noodles and Veggies (in Cashew Cream Sauce) is for you!
I try to cook batch meals at least two times a week. However, there are those days that you just want to relax and eat something that you can heat up in the microwave. Good thing I found Amy's Kitchen products at our local Walmart grocery. I have a lot of their products in my rotation of frozen meals for the lazy days I'm talking about.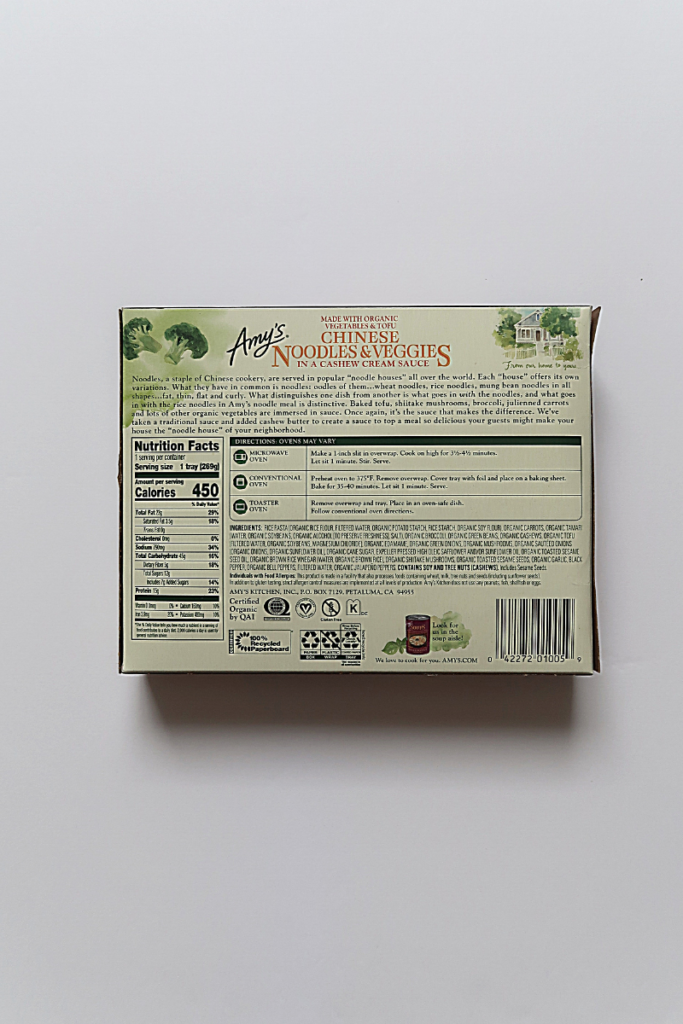 Does Amy's Chinese Noodles and Veggies taste good?
Growing up in the Philippines, noodle type dishes are a big part of my diet and this product taste good for me despite being a frozen meal. I love the sauce and being a Filipino, I sometimes eat it with rice or bread specially when I'm really hungry (Yes, we like carbs on carbs!).
Is this product vegan?
Yes! This is what I love with Amy's Kitchen. They make products that taste good and vegan. It's very helpful to people like me that's still building meatless recipes.
Where can we buy Amy's Chinese Noodles and Veggies?
Here in Colorado, I'm able to purchase this specific product as well as other Amy's Kitchen meals at Walmart grocery and King Soopers.
Verdict
I love eating this product and it makes my life easy that it's available specially during lazy days. But remember, this is still a processed food and I try my best to only eat them once in a while. If you check the back photo of the box, make sure that you consider the sodium and calorie count especially if you have health issues. I still love to cook meatless meals and I've been learning a lot the past few months by experimenting. But I still love that Amy's Chinese Noodles and Veggies is available to satisfy my asian food cravings.
Have you tried this product or a different plant-based frozen meals? What are your thoughts on this type of food? Have a great day everyone!
Regards,
Sally Mae
Amy's Kitchen : https://www.amys.com
Looking for other meatless / plant-based products? Check our Be Meatless Resources page for more!